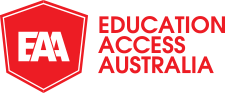 Greetings to all our current and prospective students from the Board of Directors, Management and Staff of Education Access Australia (EAA). The Motto of our college is committed to excellence in education.
At EAA we take immense pride in our Commitment to Excellence in Education. Establishing close relationships with our students is vital to ensure success. Underpinning EAA are our values of:
Ethical Behaviour
Academic Honesty and Integrity
Accountability
Quality and Excellence
Equity of Access and Inclusiveness
Mutual Respect
Respect for Cultural Diversity
Freedom of Expression and Individuality
Social Responsibility
As a reputed education establishment, we strive to deliver high education illustriousness to students as per the Australian Qualifications Framework (AQF), governed by the Australian Skills Quality Authority (ASQA), whilst creating an enriching learning environment. We believe students who are empowered and emboldened will achieve fulfillment and education excellence.
We thank you for choosing Education Access Australia and sincerely welcome you to our Institute.
Warm Regards.
CEO